OMH offers "Desite Better Built Bins"
Self dumping bins often receive a lot of abuse in the work place so they need to be built well. They get bent, dropped and backed into on a regular basis. We have designed our bin so that commonly damaged parts can be unbolted and replaced saving the customer time and money on repair costs. These are a premium that are reinforced in critical areas.
Shipping is always a factor when customers are wanting to purchase bins. Often shipping could be as much as a 25% add cost when purchasing. Desite Better Built Bins have been designed to sleeve together so that we can save customers money when they are ordering more than one bin. Desite Better Built Bins come in one, two, and three yard capacities. Call today for exceptional pricing on our exceptional bins.
---
We offer the best shipping rates! Call for more info
---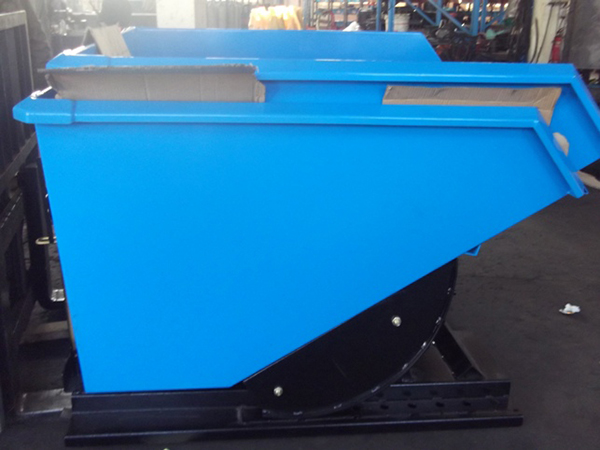 Self dumping bins are a bulky and expensive item to ship in a cost effective manner so we have designed Better Built Bins to sleeve into each other. Having the ability to ship two or three bins using the same amount of space as one bin save big money on shipping costs. Our bins are tapered so that one bine will fit inside the other, taking up less room when shipping. Sleaving our bins for shipping saves the customer money on shipping costs. These bins are offered in a 1, 2, and 3 yard capacity.
---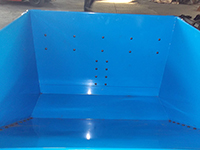 Desite Better Built Bins manufactured to the highest standards. Our bins are laser cut and CNC formed for accuracy and precision. All bins and bases are wire feed welded, inspected and then powder coated and baked for a durable finish.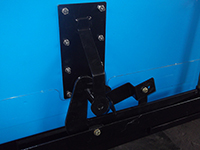 We have designed our latching system so that it bolts to the bin. This allows the customer to unbolt and replace a part if it gets damaged.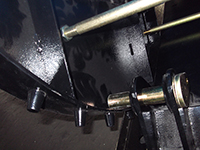 We have engineered our bins with rail gussets for added structural support. We also have designed our bins with removable pins stops allowing the bin to be installed or separated quickly and safely.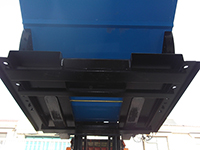 Desite Better Built Bins have been designed with extra forming in the base to add structural strength to the base.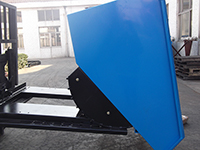 Our bins have a steeper dump angle than standard bins. Having a steeper dump angle helps to keep the bin clean when dumping products that want to stick or hang up.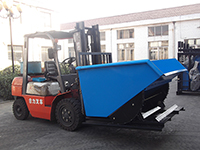 Desite Better Built 2 yard Self Dumping Bin.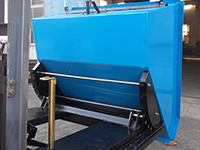 Desite Better Built Bins have a reinforced track for the bin to run on. The bin runners are also a bolt on item that can be replaced if damaged by the forklift. We have designed tensioned truss rods into the bin runners that can be adjusted to keep the bin running straight.